MegaSquirtPNP
™
Plug-N-Play Standalone Engine Management System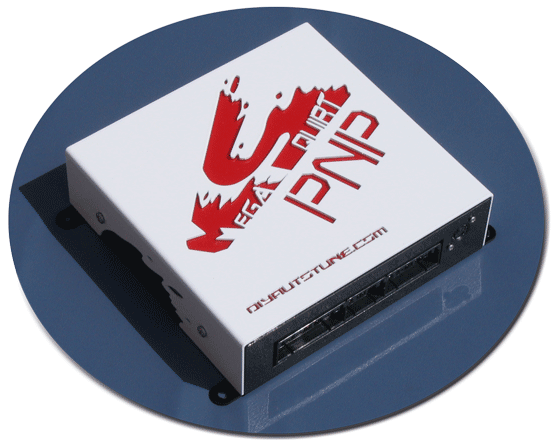 MegaSquirtPNP MM9093 Features
The featureset of each model MSPNP may vary a bit. Here's where you'll find the various models and their features...
MegaSquirtPNP Model #MM9093 Features
1990-1993 USDM Mazda Miata w/ manual tranny
MM9093 has also been tested independently by customers in other countries, and is currently in use in the UK, Australia, Germany, Hong Kong, Sweden, and Greece! So long are your 90-93 car is running the 1.6l motor, and ODB1 computer, it appears to be the same worldwide.
Based on the MegaSquirt-I PCBv3.57 running the MS1-Extra firmware. Initial release will be running MS1-Extra firmware version 029v.

2.5bar MAP Sensor (internal) good for up to 21 psi of boost

Wideband O2 Input (we recommend the Innovate Motorsports LC-1)
Extra Features added to the hardware:
Electronic Boost Control

Launch Control

Flat Shift (keep your foot floored between shifts, just clutch, shift, and un-clutch. Keeps the revs up high but controlled, and if your turbo'd, helps keep it spoolin'!)

Knock Sensor Input (for use with Knocksense MS external knock box)

Cooling Fan Control

Closed Loop Idle Speed control

AC Control (yes your ECU controlled A/C will continue to function properly)

100% Plug-n-Play option leaving the stock AFM in place, or optionally you can remove the factory AFM/Airbox and pickup a few more ponies-- we've made this unit as flexible as possible. All that's needed to remove the factory AFM is a GM Style IAT Sensor, a short piece of pipe with an 3/8" NPT bung for the sensor, and a cone filter. We have a kit available here to simplify this.

Built for the Plug-n-Player, but with the DIYer at heart-- there are several features built in to the circuit board to allow for modification and expandability, though of course hacking your box will effect your warranty.
Included with the MSPNP EMS will be the tuning cable, software and manual CD, mounting hardware, and vacuum line with 'T' fitting. Everything you'll need to install your MSPNP leaving your AFM in place. If you'd like to remove your AFM we have a couple of kits to help simplify that process as well. These kits as well as the MSPNP EMS are now available for purchase online.
Home Pictures Features Installation Downloads Dyno Results What's Next?

The MegaSquirtPNP™, as with any programmable engine management system, may not
be legal for use on pollution controlled vehicles and is therefore produced and sold for off road/race use only. Check federal/local laws.
MegaSquirtPNP™, MSPNP™, MegaSquirt PNP™, and MS PNP™, are trademarks of Hoffmann Innovations, Inc d/b/a DIYAutoTune.com.