MegaSquirtPNP
™
Plug-N-Play Standalone Engine Management System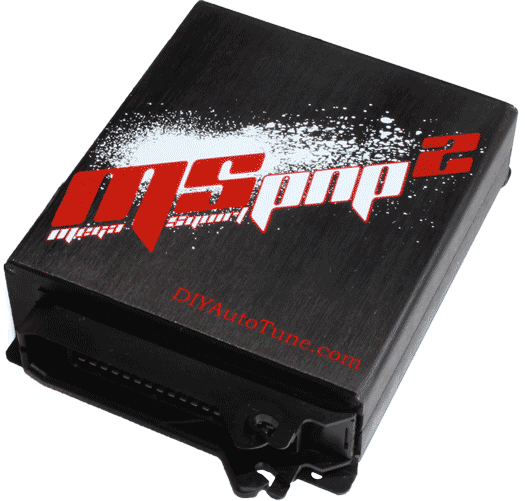 The all new Generation 2 MSPNP now reaches out to more of your favorite vehicles!
First, we redesigned the core of the MSPNP hardware, basing it off of the much faster MegaSquirt-II processor which will give you all of the control you've been looking for! Your engine will run smoother, with excellent driveablity as well as what you're really after, the ability to tune your engine for maximum HORSEPOWER and TORQUE across the entire RPM range! The MSPNP Gen2 (aka MSPNP2) includes a very impressive featureset allowing you to convert a distributor based engine over to distributorless igntion and sequential or semi-sequential fueling! It includes four Peak-N-Hold fuel injector drivers allowing for use of high-impedance (hi-z) or low-impedance (low-z) injectors. We also have included a Manifold Pressure Sensor that's good for up to 44psi of boost for you boost junkies (while maintaining PLENTY of resolution for incredibly accurate control for you naturally aspirated guys too!)
Then of course it includes all of the other features you'd expect from a standalone EMS of this caliber, including table switching (swap fuel and ignition tables when nitrous activates, or when you're running race gas versus pump gas), 2 step rev limiters, flat shift, boost control, tachometer output, knock sensor input, etc.
See this page for complete feature set!
We've recently introduced a program called MSPNP On Demand where we can create new MSPNPs for an enthusiast community (car club, Internet forum, etc) by group buy. If we already have an ECU connector for the application and the car can run on the MSPNP Gen 2 feature set, we can make a new MSPNP model for group buys of 10 units or more. Click here for details. Also, check if your car is on this list of MSPNPs in active development where we are looking for a test car.
Note 1: We currently need a test vehicle for this model. If you have one and are willing to loan it to us, contact us and we'll make it worth your while!
Don't see an MSPNP
™
model available for your car/truck? Willing to put a little effort into building your own PNP MS
™
?
Check out the DIYPNP EMS
.
Drop us a line
if you'd like to see your vehicle on the list.
*
EFI Analytic
's TunerStudio Lite and MegaLogViewer is included with each software download.
Click on any of the links below for features, installation info (30-60 minutes), dyno results, and more!
Home Features Manual Base Maps FAQ ORDER NOW!
Click here for legacy Generation 1 documentation.
The MegaSquirtPNP™, as with any programmable engine management system, may not
be legal for use on pollution controlled vehicles and is therefore produced and sold for off road/race use only. Check federal/local laws.
MegaSquirtPNP™, MSPNP™, MegaSquirt PNP™, and MS PNP™, are trademarks of Hoffmann Innovations, Inc d/b/a DIYAutoTune.com.